Description
What is included in a subscription:
With KUBO, you get an ideal hands-on coding solution explicitly designed to enhance creativity, collaboration, critical thinking, and communication for your students aged 4 to 10+. Students are taught how to code through KUBOs unique TagTile® programming language with low complexity and easy adoption for teachers and students. KUBO loves storytelling, which makes it easy for children to create new universes and for teachers to do cross-curricular exercises with this hands-on solution.
Features:
Great for in-class collaborative learning
Physical robots, TagTiles®, and maps
Onboarding program with free meetings
Professional development programs for teachers
40+ hours of standardized curriculum
Why Choose KUBO for Your K-5 Classroom?
If you're new to teaching coding and aren't sure where to start, are overwhelmed by the choice of coding products available, or are looking for an affordable solution that makes it easy to get started and provides all the support you need, the answer is KUBO.
KUBO makes coding easy and fun for students of all abilities, even the most technology-shy. It enhances creativity, collaboration, critical thinking, and communication skills, preparing students for the future – and can be used in class and at home.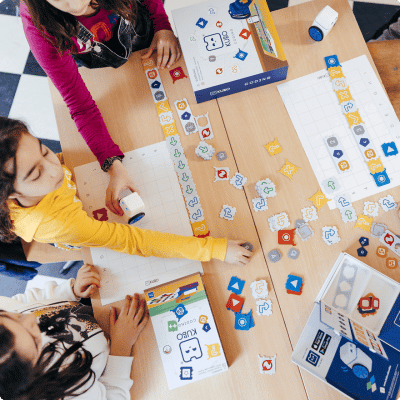 KUBO Coding Solutions:
Hands-On Solution
KUBO Hands-on is a simple, intuitive, plug-and-learn coding tool with low complexity, zero set-up time, and easy adoption for teachers and students alike.
Unique Tagtile® Solution
KUBO is the only puzzle-like concept in the world. It is making coding as simple as snapping together puzzle pieces.
KUBO Play
KUBO Play is a brand new digital coding solution that engages children whether they are in class in school or remotely at home. KUBO Play caters to all abilities and elementary age groups. Students reinforce the computational curriculum and experience a personalized learning journey at their own pace – from anywhere, at any time, with 24/7 access.
Classroom management
Have a complete overview of the school, teachers, and students.
Organize classes, add, remove or change teacher and student info.
Manage and assign tasks to students on an individual level.
Track students' progress and provide immediate feedback.
KUBO Portal
KUBO Portal supports your teaching and learning process. It is a powerful resource platform for you to deliver a high-quality experience in the classroom. You are continuously updated with the newest standard-based lesson plans, cross-curricular activities, video tutorials, webinars, white papers, and more.
Curriculum and lesson plans.
The material is localized into 10+ different languages, so don't worry. We will properly also support your mother tongue.
Cross-curricular activities: Leverage learning
Get insights, ideas, and inspiration on how to use KUBO in the classroom. Each includes the solutions and an extended version of the activity for advanced students.
Explore your creativity with Map-Maker
The KUBO MapMaker is a tool designed for teachers to develop their coding challenges by creating printable maps to use in the classroom. This excellent time-saving tool means you can create coding challenges aligned with existing schemes of work. Choose a theme, design your tasks, save, download and share.
Professional Development
Our professional development section will secure the best onboarding for you using KUBO in the classroom. It consists of training courses, webinars, and whitepapers to improve educators' teaching quality and effectiveness. Includes certification.
⚠WARNING:
CHOKING HAZARD-Small parts. Not for children under three years.